Dr. Eleni Tiniakou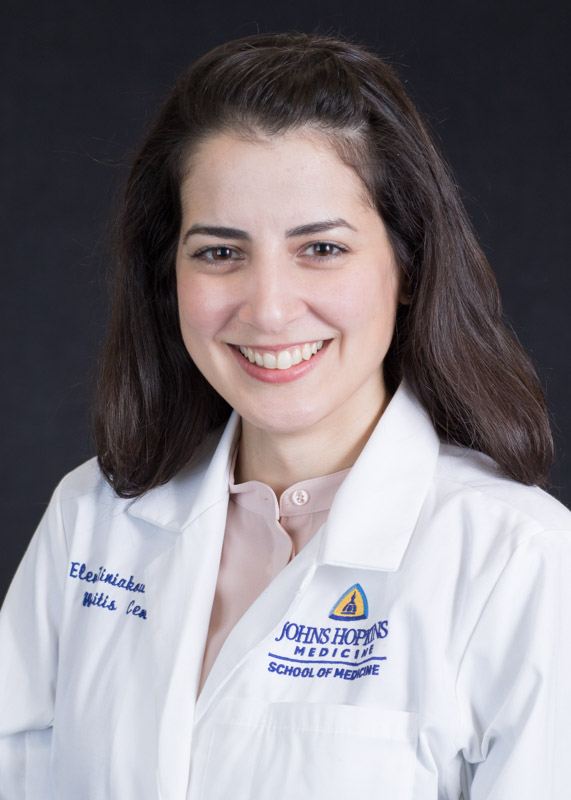 Assistant Professor of Medicine; Co-President of the Maryland Society for Rheumatologic Diseases (MSRD)
Dr. Eleni Tiniakou is an Assistant Professor of Medicine in the Division of Rheumatology. She earned her medical degree from the Medical School at the University of Athens in Greece. She completed both her internship and residency training in Internal Medicine at the Bridgeport Hospital/Yale University Program and stayed for another year to serve as the Chief Resident. While still a resident at Yale, she started pursuing a research track in rheumatology and worked at the Kriegel lab on the effect of microbiota in immune-mediated diseases. Subsequently, she pursued a post-doctoral fellowship training in Rheumatology at the Johns Hopkins University School of Medicine where she worked on anti-HMGCR autoimmune mediated myopathy under the mentorship of Drs. Antony Rosen, Livia Casciola-Rosen, Erika Darrah and Andrew Mammen. She continued her work as an Instructor at the Division of Rheumatology at Johns Hopkins University, with the goal to identify the trigger of autoreactive T cells in anti-HMGCR autoimmune myopathy and the association with statin exposure. Under the mentorship of Drs. Erika Darrah and Francesco Boin, they developed a new method to identify naturally processed peptide epitopes derived from autoantigens, which is called the Natural Antigen Processing Assay (NAPA). NAPA identifies the specific peptides harnessing the power and specificity of a patient's own antigen processing cells. This system has the potential to be utilized broadly across the spectrum of autoimmune, malignant, or infectious diseases to identify potential target epitopes for further study. The NAPA studies in scleroderma were selected for oral presentations at the 2017 European Workshop of Rheumatology Research, the 2017 and 2019 American College of Rheumatology annual meetings. As a result of this work, we now can successfully identify autoreactive CD4+ T cells and it lays the foundation for extending the work to identifying autoreactive CD8+ T cells in scleroderma and myositis, a work she continues with Dr. Erika Darrah.
Dr. Tiniakou's research focuses on identifying and describing specific T cells in myositis and scleroderma, and how these relate to cancer. Specific T cells are thought to be the immune cells that start and drive the autoimmune process in diseases like myositis. Describing these cells could be helpful in understanding how the disease starts, the association with cancer, monitoring the disease progression, and ultimately developing targeted immunotherapies, which could be tailored for each patient. Dr. Tiniakou was awarded the Rheumatology Research Foundation Scientist Development Award for her research project aiming to describe these specific T cells in statin-associated immune-mediated necrotizing myopathy, and a NIH K08 award to identify antigen specific T cells in RNA polymerase III scleroderma. The long-term goal is to develop targeted monitoring tools against those specific cells and have the potential to revolutionize the treatment of autoimmune diseases.
The remainder of her academic time is allocated for patient care in the Johns Hopkins Myositis Center. Along with Dr. Christopher-Stine, Dr. Tiniakou is also co-president of the Maryland Society for Rheumatologic Diseases (MSRD). The goal of the society is to deliver the latest evidence-based treatments for the rheumatic diseases, train the next generation of rheumatology clinicians and research scholars, and support rheumatology research and advocacy.
Dr. Eleni Tiniakou is an active member of both the American College of Rheumatology and the Federation of Clinical Immunology Societies (FOCIS).
Post-doctoral Fellow, Rheumatology, Johns Hopkins University School of Medicine, Baltimore, MD
Researcher, Rheumatology, Yale University Program, New Haven, CT
Chief Resident, Internal Medicine, Bridgeport Hospital-Yale University Program, Bridgeport, CT
Internship & Resident in Internal Medicine, Bridgeport Hospital-Yale University Program, Bridgeport, CT
Selected Recent Original Research Publications:
Manolakopoulos S, Deutsch MJ, Anagnostou O, Karatapanis S, Tiniakou E, Papatheodoridis GV, Georgiou E, Manesis E, Tzourmakliotis D, Archimandritis AJ. Substitution treatment or active intravenous drug use should not be contraindications for antiviral treatment in drug users with chronic hepatitis C. Liver Int. 2010 Nov;30(10):1454-60. PubMed PMID: 20846344.
Lloyd TE, Christopher-Stine L, Pinal-Fernandez I, Tiniakou E, Petri M, Baer A, Danoff S, Pak K, Casciola-Rosen L, Mammen AL. Cytosolic 5′-nucleotidase 1A is a common target of circulating autoantibodies in several autoimmune diseases. Arthritis Care Res (Hoboken). 2015 Apr 17;PubMed PMID: 25892010.
Floyd JS, Brody JA, Tiniakou E, Psatsy BM, Mammen A. Absence of anti-HMG-CoA reductase autoantibodies in severe self-limited statin-related myopathy. Muscle Nerve 2016 Mar 31. PubMed PMID 27038110
Tiniakou E, Pinal-Fernandez I, Lloyd TE, Albayda J, Paik J, Werner JL, Parks CA, Casciola-Rosen L, Christopher-Stine L, Mammen AL. More severe disease and slower recovery in younger patients with anti-3-hydroxy-3-methylglutaryl-coenzyme A reductase-associated autoimmune myopathy. Rheumatology (Oxford). 2017 Jan 17. PubMed PMID: 28096458.
Amici DR, Pinal-Fernandez I, Pagkatipunan R, Mears A, De Lorenzo R, Tiniakou E, Albayda J, Paik JJ, Lloyd TE, Christopher-Stine L, Mammen AL, Chung T. Muscle endurance deficits in myositis patients despite normal manual muscle testing scores.Muscle Nerve. 2018 Jul 20. doi: 10.1002/mus.26307. [Epub ahead of print] PubMed PMID: 30028529.
De Lorenzo R, Pinal-Fernandez I, Huang W, Albayda J, Tiniakou E, Johnson C, Milisenda JC, Casal-Dominguez M, Corse AM, Danoff SK, Christopher-Stine L, Paik JJ, Mammen AL. Muscular and extramuscular clinical features of patients with anti-PM/Scl autoantibodies. Neurology. 2018 Jun 5;90(23):e2068-e2076. doi: 10.1212/WNL.0000000000005638. Epub 2018 May 4. PubMed PMID: 29728522; PubMed Central PMCID: PMC5993182.
Albayda J, Christopher-Stine L, Bingham Iii CO, Paik JJ, Tiniakou E, Billings S, Uy OM, Burlina P. Pattern of muscle involvement in inclusion body myositis: a sonographic study. Clin Exp Rheumatol. 2018 May 8. [Epub ahead of print] PubMed PMID: 29745890.
Manfredo Vieira S, Hiltensperger M, Kumar V, Zegarra-Ruiz D, Dehner C, Khan N, Costa FRC, Tiniakou E, Greiling T, Ruff W, Barbieri A, Kriegel C, Mehta SS, Knight JR, Jain D, Goodman AL, Kriegel MA. Translocation of a gut pathobiont drives autoimmunity in mice and humans. Science. 2018 Mar 9;359(6380):1156-1161. doi: 10.1126/science.aar7201. Erratum in: Science. 2018 May 4;360(6388):. PubMed PMID: 29590047; PubMed Central PMCID: PMC5959731.
Review Articles:
Tiniakou E, Costenbader KH, Kriegel MA. Sex-specific environmental influences on the development of autoimmune diseases. Clin Immunol. 2013 Nov;149(2):182-91. PubMed PMID: 23507400; NIHMSID: NIHMS450745; PubMed Central PMCID: PMC3805711.
Tiniakou E, Mammen AL. Idiopathic Inflammatory Myopathies and Malignancy: a Comprehensive Review. Clin Rev Allergy Immunol. 2017 Feb;52(1):20-33. 
PubMed PMID: 26429706. 

Tiniakou E, Christopher-Stine L. Immune Mediated Necrotizing Myopathy Associated with Statins; History and Recent Developments. Current Opinion in Rheumatology . 2017 Nov;29(6):604-611. PubMed PMID: 28857949.
Case Reports:
Chalkias S, Samson SN, Tiniakou E, Sofair AN. Poststreptococcal cutaneous leukocytoclastic vasculitis: a case report. Conn Med. 2010 Aug;74(7):399-402. PubMed PMID: 20806618.
Kohli R, Tiniakou E, Nascimento JM, Oyefeso G. Giant cell arteritis presenting as tongue necrosis. International Journal of Case Reports and Images. 2013; 4(11):638-640.
Tiniakou E, Mammen AL. Necrotizing myopathy caused by central hypothyroidism. Muscle Nerve. 2015 Jul;52(1):152-3. PubMed PMID: 25808401.
Tiniakou E, Kontzialis M, Petri M. Rheumatoid Pachymeningitis: A Rare Complication of Rheumatoid Arthritis. J Rheumatol. 2018 Aug;45(9):1325-1326. doi: 10.3899/jrheum.171074. PubMed PMID: 30173179.
Other Publications:
Mammen AL, Tiniakou E. Intravenous Immunoglobulin for Statin-Triggered Autoimmune Myopathy. N Engl J Med. 2015 Oct22;373(17): 1680-2. PubMed PMID: 26488714
Book Chapters:
"Idiopathic Inflammatory Myopathies" Springer (under publication)
Other Media (Videos, Websites, Blogs, Social Media, etc.):
2016 Tiniakou E. Meet Dr Tiniakou; "Dr. Tiniakou's research interest is in the specific mechanisms of the Myositis disease. She works hard in the lab to uncover the latest breakthrough discoveries".
2017 Tiniakou E. ACR Highlights; "Identifying Key T cells in scleroderma"
2018 Tiniakou E. Dermatomyositis; Disease Overview, Signs and Symptoms, Diagnosis, Treatment, Lifestyle Options
Awards, Honors:
| | |
| --- | --- |
| 2018 | The W. Leigh Thompson Excellence in Research Award-Basic Research Faculty Finalists, Johns Hopkins University |
| 2018 | Biomedical and Scientific Writing: A Review-Intensive Course for Junior Faculty, Johns Hopkins University Office of Faculty Development |
| 2017 | Emerging Women in Leadership Program Graduate, The Johns Hopkins Office of Women in Science and Medicine, The Johns Hopkins Office of Women in Science and Medicine |
| 2017 | Travel Grant Recipient for the 37th European Workshop for Rheumatology Research, EULAR scientific scoring team |
| 2016 – present | Scholar, The Jerome L. Greene Foundation |
| 2016 | Rheumatology Research Workshop Abstract Winner, 2016 American College of Rheumatology Rheumatology Research Workshop and Rheumatology Research Foundation |
| 2016 | Travel Grant Recipient, EULAR Congress 2016 |
2015 FOCIS Advanced Course in Basic and Clinical Immunology, travel grant recipient
2004 Top 10 medical students for the year 2004-2005, Greek National Scholarships Foundation
2000 Excellent performance in National Medical College Admission Test, Eurobank