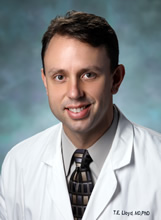 Dr. Lloyd is an Associate Professor of Neurology in the Division of Neuromuscular Medicine and Co-Director of the Johns Hopkins Myositis Center.
Dr. Lloyd's research focuses on understanding the cause and finding new treatments for Inclusion Body Myositis (IBM). Dr. Lloyd has been a recipient of the S. Weir Mitchell Award for Excellence in Neurology through the American Academy of Neurology and the Wolfe Research Prize through the American Neurological Association.
MD: Baylor College of Medicine, Houston, TX
PhD: Molecular and Cell Biology, Baylor College of Medicine
Internship: Johns Hopkins Hospital
Neurology Residency: Johns Hopkins Hospital
Neuromuscular Fellowship: Johns Hopkins Hospital
Selected Recent Original Research Publications:
Lloyd TE*, Mammen AL, Amato AA, Weiss MD, Needham M, Greenberg SA*. Evaluation and Construction of Diagnostic Criteria for Inclusion Body Myositis.  2014; 83:426-33.
Roda RR, Schindler A, Blackstone C, Mammen AL, Corse AM, Lloyd TE. Laing Distal Myopathy Pathologically Resembling Inclusion Body Myositis.  Annals of Clinical and Translational Neurology 2014:1053-8.
Lloyd TE*, Christopher-Stine L*, Pinal-Fernandez I, Tiniakou E, Petri M, Baer A, Danoff S, Pak K, Casciola-Rosen L, Mammen AL. Cytosolic 5'-nucleotidase 1A is a common target of circulating autoantibodies in several autoimmune diseases. Arthritis Care Research 2015: doi: 10.1002/acr.22600.
Mammen AL, Casciola-Rosen L, Christopher-Stine L, Lloyd TE and Wagner KR. Myositis specific autoantibodies are specific for myositis compared to genetic muscle disease. Neurology: Neuroimmunology & Neuroinflammation 2015 Nov 19;2(6):e172.
*Equal contribution
Selected Review:
Lloyd TE. Novel therapeutic approaches for inclusion body myositis. Current Opinion in Rheumatology. 2010; 22(6): 658-64.