Associate Professor of Medicine, Co-Director of the Johns Hopkins Interstitial Lung Disease Clinic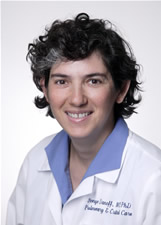 Dr. Danoff is an Associate Professor in the Division of Pulmonary and Critical Care Medicine and Co-Director of the Hopkins Interstitial Lung Disease Clinic.  She is a specialist in diseases causing fibrosis or scarring in the lung, particularly those associated with autoimmune diseases including myositis.
Her research focuses on basic and translational studies of lung fibrosis.  She was awarded the 2007 American Thoracic Society/Coalition for Pulmonary Fibrosis Research Award to support her research studies.
She has also been a recipient of grants from the National Institutes of Health, the Mid-Atlantic American Heart Association and the American Lung Association.
MD: Johns Hopkins University, School of Medicine
PhD: Johns Hopkins University, School of Medicine
Post-doctoral Fellowship: Johns Hopkins University, School of Medicine, Pulmonary and Critical Care Medicine
Internship and Residency: Johns Hopkins Hospital