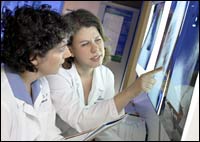 The Johns Hopkins Myositis Center is one of the first multidisciplinary centers of its kind that focuses on the diagnosis and management of myositis. Combining the medical expertise of specialists in the fields of rheumatology, neurology and pulmonology, the Center creates a profound benefit for myositis patients.
Expertise
Frequently, patients with myositis visit many doctors before being diagnosed. One study showed that myositis patients average six doctor visits before the correct diagnosis is made. At the Johns Hopkins Myositis Center, we have considerable experience in evaluating patients with muscle weakness as well as other rheumatologic and neurologic symptoms.
One Center
At the Johns Hopkins Myositis Center, you can see a neurologist, rheumatologist, and/or a pulmonologist, depending upon your needs. Usually, appointments for multiple specialists can be made for the same day, thereby avoiding extra trips to see your doctors. We can often arrange testing to be performed the same day that your doctors see you. This offers increased convenience to you and, more importantly, avoids delays in diagnosis and treatment.
In addition to our experienced and caring physicians, The Johns Hopkins Myositis Center also provides the services of a nutritionist. This is particularly important to patients on prednisone, since unwanted weight gain can be a significant side-effect of this medication. Furthermore, the Myositis Center's physical therapist and/or occupational therapist are available to advise patients on muscle strengthening and lifestyle modifications.
Convenience
Our caring and committed staff is dedicated to helping myositis patients, and work diligently to make sure that patient needs are met. Most appointments for diagnostic testing and evaluation are scheduled the same day, so patients can minimize the time spent at clinics.
Community
Further, because of the unique nature of a rare disease like myositis, the Center creates a community, where patients can meet other myositis patients, learn more about the disease and be constantly updated on breakthroughs regarding treatment of myositis.
Learn more about:
More Information About Diagnosing and Treating Myositis: