Assistant Professor of Neurology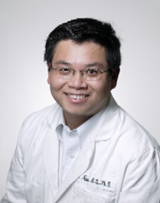 Dr. Nguyen is an Assistant Professor in the Department of Neurology with a special interest in diseases of nerve and muscle. In addition to taking care of myositis patients, he performs electromyography and muscle biopsies at the Johns Hopkins Myositis Center.
Dr. Nguyen's research, focused on nerve degeneration and regeneration, is sponsored by the National Institutes of Health.
MD: University of Washington School of Medicine
PhD: University of Washington School of Medicine
Internship: University of Washington School of Medicine
Neurology Residency: Johns Hopkins Hospital
Neuromuscular Fellowship: Johns Hopkins Hospital