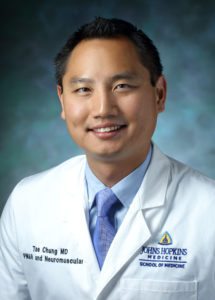 Dr. Tae Hwan Chung is an assistant professor of Physical Medicine and Rehabilitation and Neurology at the Johns Hopkins University School of Medicine. His areas of clinical expertise include neuromuscular disorders and physical medicine and rehabilitation.
With combined training in neuromuscular medicine and in physical medicine and rehabilitation, Dr. Chung is uniquely positioned to provide a wide range of services, including diagnosis of various neuromuscular conditions, electrodiagnostic procedures, neuromuscular pathology, immune treatments and rehabilitative treatments. Clinically, Dr. Chung is particularly interested in rehabilitative treatments and therapeutic exercise of various neuromuscular diseases, especially myositis and other forms of muscle diseases. Dr. Chung runs a multidisciplinary rehabilitation clinic under the Myositis Clinic with the Johns Hopkins neuromuscular rehabilitation team, which he helped develop with physical, occupational and speech therapists, who are dedicated to helping patients with rare neuromuscular diseases. For his research, he investigates the effects of aging on the neuromuscular system in collaboration with his mentors in geriatric medicine and neurology.
Dr. Chung is in the NIH-funded phase of RMSTP (Rehabilitation Medicine Scientist Training Program) from AAP (Association of Academic Physiatrists), and was recently awarded with The Richard S. Materson Education Research Fund (ERF) of the Foundation for Physical Medicine and Rehabilitation.
Dr. Chung earned his M.D. from the Catholic University of Korea. He completed his residency at Johns Hopkins and performed a fellowship in neuromuscular medicine at Johns Hopkins.
Selected Recent Original Research Publications:
Chung T, Christopher-Stine L, Paik JJ, Corse A, Mammen AL. The composition of cellular infiltrates in anti-HMG-CoA reductase-associated myopathy. Muscle Nerve. 2015 Aug;52(2):189-95
Mammen AL, Chung T, Christopher-Stine L, Rosen P, Rosen A, Casciola-Rosen LA. Autoantibodies against 3-hydroxy-3-methylglutaryl-coenzyme a reductase (HMGCR) in patients with statin-associated autoimmune myopathy. Arthritis Rheum. 2011 Mar;63(3):713-21.
Christopher-Stine L, Casciola-Rosen L, Hong G, Chung T, Corse A, Mammen AL. A novel autoantibody recognizing 200 and 100 kDa proteins is associated with an immune-mediated necrotizing myopathy. Arthritis Rheum. 2010 Sep;62(9):2757-66