IRB: IRB00117860
Purpose of Study: We will require blood samples (5 tablespoons) from people with dermatomyositis to investigate markers for cancer as part of research in the Division of Rheumatology
Eligibility Criteria:
Must be at least 18 years of age
Diagnosis of dermatomyositis
Symptoms started within the past year
Study Status:
Recruiting
ClinicalTrials.gov Link:
Specialty Center:
Myositis Center
Coordinator/Contact:
Principal Investigator: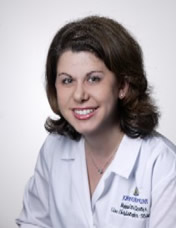 Lisa Christopher-Stine, MD, MPH
Associate Professor of Medicine
Dr. Christopher-Stine is currently Director of the Johns Hopkins Myositis Center. She is an Associate Professor of Medicine and Neurology. She also serves as one of the Johns Hopkins University School of Medicine College Advisors, and is a Board Member of the Johns Hopkins Institutional Review Board (IRB 5).