IRB: IRB00144439
Purpose of Study: Recruitment is underway in Baltimore and other sites for a research study of an investigational medicine for dermatomyositis (DM). This study will assess the effectiveness and safety of a Study drug compared to placebo. The study drug is a type of drug called a biologic and is given monthly by injection into your vein.
Eligibility Criteria:
Study volunteers must meet the following criteria: To be eligible for this trial, a patient must:
Be 18 to 75 years of age
Have a diagnosis of DM
Have active DM-related skin disease
Failed to respond to at least 1 standard of care systemic treatment like corticosteroids
Must be willing to undergo skin biopsies
Willing to come in for 10 on-site visits over 8 months
Go to ClinicalTrials.gov where you will find information on the trial recruitment status, eligibility, locations, and contact details. ClinicalTrials.gov Identifier: NCT03181893
Study Status:
Recruiting
ClinicalTrials.gov Link:
Specialty Center:
Myositis Center
Coordinator/Contact:
Principal Investigator: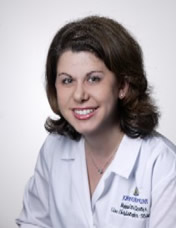 Lisa Christopher-Stine, MD, MPH
Associate Professor of Medicine
Dr. Christopher-Stine is currently Director of the Johns Hopkins Myositis Center. She is an Associate Professor of Medicine and Neurology. She also serves as one of the Johns Hopkins University School of Medicine College Advisors, and is a Board Member of the Johns Hopkins Institutional Review Board (IRB 5).